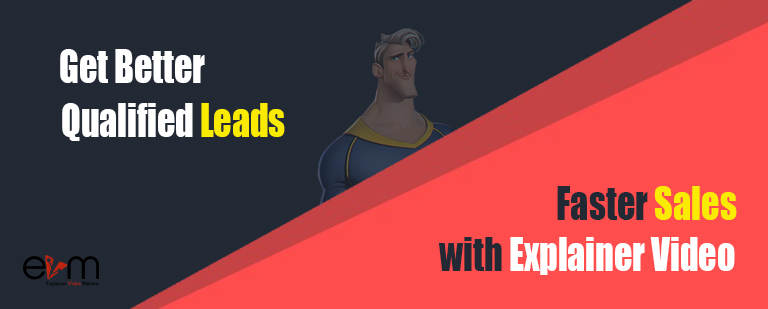 Get Better Qualified Leads & Faster Sales with Explainer Video
Explainer videos when done in the right manner, they are assets but not just assets. They are assets that in a continuous manner produce a return on your investment. This is simply because, they increase or create more leads for your business.  Apart from that, it assures more leads or no days with zero or sporadic leads. Furthermore, it helps educate prospects. This makes one use the power of explainer videos to support marketing and sales process. Last but not least, the explainer videos help create a buying demand. Despite the number of benefits earned by explainer videos, many businesses and companies are still lagging behind or rather are not fully exploiting these videos to maximize on them.
In order that you achieve best out of your explainer videos, you have to bear in mind that these videos have a much more than just clicks and attention. Additionally, competing on features and more incredible characteristics is no longer good enough to stand out from the crowd and win sales.   As a result, it is supposed to be clear that explainer videos are one of the most critical tools and first touch points that a business has and if well set, they can offer a tremendous boost as far as marketing is concerned. Many companies and businesses usually make a number of assumptions that act as their drawback and in order to get better leads and faster sales with these videos, you have to attempt and eliminate these traps out of your way to greatness.
Firstly, avoid the trap of trying to use a single explainer video everywhere and for everything. This means that you are asking a video to do too much. It is supposed to be known that a single video cannot do both the job of sales and marketing within a span of 90 seconds as most of them are short. If you give your video a specific task like attracting the attention of your target market or even sharing a compelling reason to get on the phone with you, raises its chance of converting. With a number of tasks directed to a single video, risks clogging or even draining your pipeline. This is because not all leads are equal. Therefore, do not entertain the tire-kickers or empty room. Only attract those who are important to you and leave the rest.
 Secondly, to maximize on your video, make plans for its official launch, promotion and lifecycle of your video. It should be known that not all your customers buy your products for the same reasons. As a result, if you just post a video blindly, with no lifecycle plans or promotion plans, you are leaving leads behind and probably you won't beat your goals soon.  On the other hand, if you are not selling the way people like to buy or when you are not actively engaging with your leads and prospects throughout, they will put you aside for your competitor. Therefore, through these videos, ensure their attention is captured and move them in the pipeline with emotional mix and intellectually compelling messages.
Last but not least, do not focus only on your features and your areas of potential. As business people, you have to keep in mind that you and your competitors are the same. Therefore, it is easier for them to replicate what you do and your features. Tell a story about your world that your customer's want to be part of and then at every phase, air the story of your business. Consequently, your leads will tend to make a comparison shop and evaluate you on criteria that do not favor you. Every time you speak about your features and tactics, you are making sales difficult. Therefore, avoid at all cost doing the same.
In summary, if we want to get better leads and improve our sales with the explainer videos, it is our effort to shun from the above stated common mistakes and go an extra mile. Uncovering and defining your goals and objectives will open leeway for you. Scripting and crafting your message with proper storyboarding and design will help you escape these mistakes. Lastly, clearly strategize on potential clients and convert all the drawbacks into your bouncing castle. This will help you not only in improving your leads and sales currently but also in future of your business.