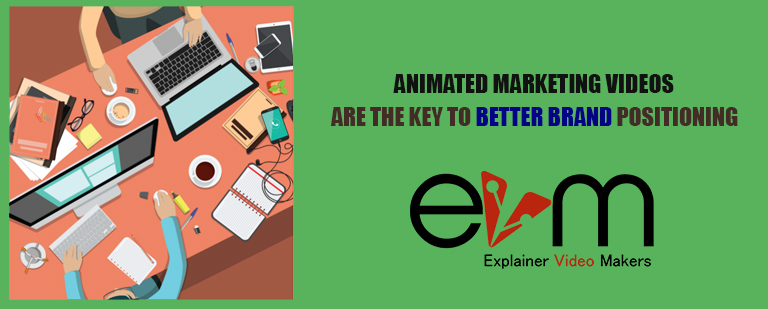 Why Animated Marketing Videos Are the Key to Better Brand Positioning?
Brand positioning is one of the words that has become common in today's generation, formerly the term was used in classes and could be used in PR as part of building your image as a company. But this time let us check in in terms video marketing. A buyer can make a choice to take a certain product let's say Adidas/Nike not because it's the best but he/she has been exposed to its performance videos more often.  Therefore, here are some of the reasons why video marketing is important.
Marketing videos increase brand awareness
Getting people to know you is a very fundamental point of your business trip. And it will be more difficult if people are not sure what services/products you are offering them. That alone will make your business fail as no one will be willing to buy something they don't know. Here is where explainer videos come in, this is because their engagements with viewers are very high than a visitor reading blocks of texts, a trait no so popular these days. Therefore, employing the correct videos will make you known to the new audience.
Marketing videos are convenient, catchy and easy to remember.
if there's anything that people can remember easily is the visual details they have learnt of something. They can easily narrate them to others and create a moving mental picture. The marketing video offers this readily and with the catchy details it has for sure it will position your brand very well. And for it to be catchy, include things such as FAQs and let them tell a story of your product or entice the customers. That alone will build a good reputation for your brand and at the end you will win.
Easy accessibility
The other aspect of marketing videos which will propel your brand is there accessibility. Most buyers still will want to download the video so as to get whatever details they want. Thus as a part of positioning your brand make them easy to download be shared to personal phones, put up on market screens or at your website's landing page. They will serve you a great deal at all times. Also accessibility means that the videos can be sent to your clients on monthly email newsletters. That will forever ink on the memories of your clients well.
And lastly let the marketing videos tell who you are (They tell your personality), by truly opening to your clients about what you are offering and what you can do to solve their problems. Clients like that truth to build trust and that alone can boost your brand position in the market. Don't forget also to brand the videos well to your special colors, content and length, this helps to make clients identify with you everywhere.