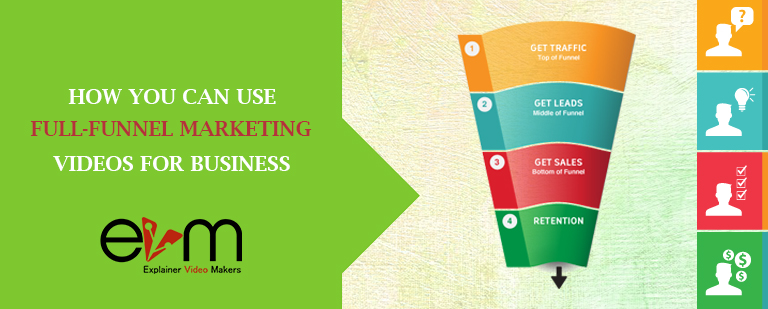 How You Can Use Full-Funnel Marketing Videos for Business?
A sales marketing funnel as you all know is the path that customers or prospective buyers follow before making a purchase or adopting a certain product. This process includes:
Awareness – the customer is aware of your brand and/or your product
Interest – the customer has expressed an interest in what it is you're offering
Evaluation – the customer wants to make a purchase and is looking at different alternatives
Decision – the customer is leaning towards purchasing your product and just needs a little nudge in the right direction
Purchase. – the customer makes the purchase
From the above you can easily range that a customer can turn away from buying a product at any stage. So as to keep the glued till the end, the best strategy to use is the video marketing. To understand fully each step will employ their own kind of videos as explained below in the parts break up.
Top of the funnel part: Awareness stage: in this part mostly the customers are not aware of your products and it's very important if they get to understand it better and make a point of knowing more about it. In this part don't use sales videos, try to employ more of explainer videos and make them highlight all the good things of your product/service. This will make them try to think of getting pone, and then bombard them with a more emotional sales video. Try and add a human aspect to the sales video, this will bring a deep connection. This can be done by showing your company culture and how employees strive to make things better for people. That alone will give you a lot of returns.
Middle funnel: Starts at evaluation. The customer you have trapped here has good interest in your service or product. The competition in the marketing space is very high and you need to quickly nail the prospective buyer down to your brand. In this point getting testimonial videos will work out very well. This is because this people will be giving first hand info about the benefits of the product and also its effectiveness. These videos can easily convert the users to your good customers. Then another format that can work well here are the interviews or case studies, with interviews try finding an appropriate person or people who say good things about you and your brand/service. That will work out well with a case study to proving how the product you made solved a certain problem in an organization.
Bottom of the funnel and conversion: this part is very tricky and it needs to fully assure the customer of great returns. The 'how to' videos will help the customers solve their problems outwardly with your product and also they will make them understand its efficiency well. The FAQs videos will help in the conversion process as they are important in educating them of some basic features of your product and how to use them
At the end of the campaign the returns will be good.